4 Days on the West Coast
Gateway to Tasmania's Wilderness World Heritage Area, its rugged mountains, ancient rain forests and heath make Tasmania's west one of Australia's last true wilderness frontiers. Yet, despite its remoteness, it's easy and safe to visit and travellers can still enjoy the best of Tasmania's quality accommodation and fine dining.
Credit: discovertasmania.com.au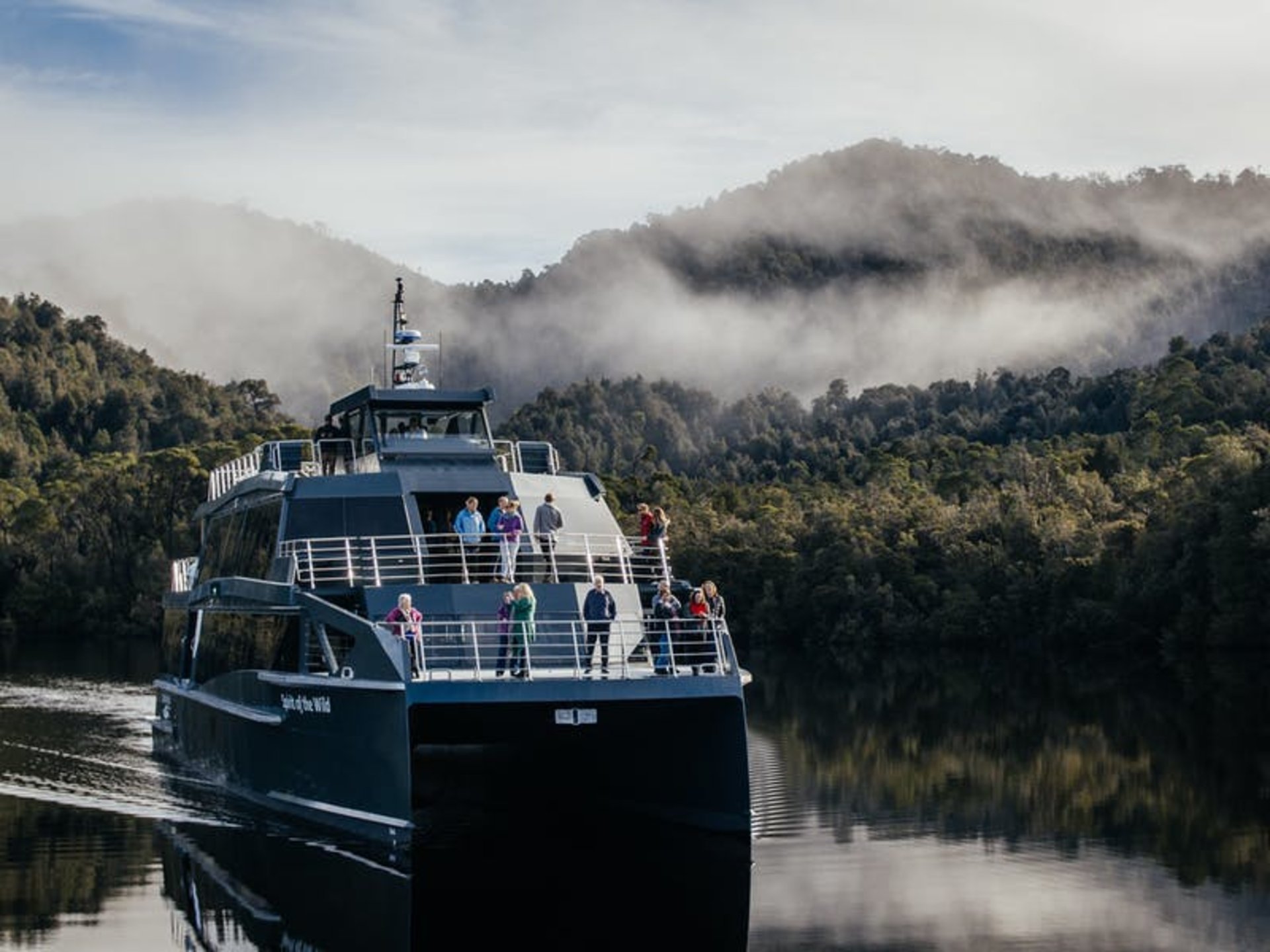 Queenstown
Following the Lyell Highway toward Queenstown, stop for the easy 20-minute return walk to pretty Nelson Falls through mossy forest of sassafras, myrtle and ferns.
Queenstown
Queenstown TAS 7467, Australia
The Paragon Theatre
The Paragon Theatre in Queenstown Tasmania was built in 1933 in true art deco style. This unique building with its stunning hand-painted floor now offers many options for your entertainment. Join us for dinner and our own featurettes including 'Forever Wilderness' from 6-30pm or perhaps a movie from 8 pm after dining elsewhere. Don't forget our famous Whiskey and Raspberry brandy Ice-cream Choc-tops, hand made on the premises. For a small fee, take a self-guided tour of the theatre to discover its history with proceeds going towards the continued restoration of the building. For timings and special events throughout the year visit our website and Facebook page. Book a tour with RoamWild Tasmania and discover Queenstown's hidden gems and if you are looking for great accommodation in Queenstown we can arrange that too, at Mt Lyell Anchorage.
The Paragon Theatre
11 McNamara St, Queenstown TAS 7467, Australia
Tracks Cafe
Head to Tracks Cafe for breakfast or lunch, and the Empire Hotel's traditional dining room for dinner.
Tracks Cafe
1 Driffield St, Queenstown TAS 7467, Australia
Eric Thomas Galley Museum
Housed in the original Imperial Hotel (built 1897) (The museum has an extensive collection this collection is 98% donated and it is run by a volunteer committee and volunteers) historic West Coast photographs, more than 1,000 photographs are displayed many of which were collected by Mr Eric Thomas, who first established the museum. There are 30 rooms of historical items including personal effects, documents, cameras, theatre projectors,house hold items, gems and minerals , military, emergency services,mining artifacts and the very varied social life all depicting aspects of West Coast heritage. Also take the time to view an extensive Royal Family memorabilia collection from Queen Victoria to the present and watch a film about Mount Lyell and the memories of the towns people.
Eric Thomas Galley Museum
1-7 Driffield St, Queenstown TAS 7467, Australia
Penghana Bed and Breakfast
This 1898 mansion has four ensuite queen-sized guest rooms upstairs, a ground floor self-contained apartment sleeping up to 4 adults or 2 adults and 3 children. "Penghana" is a National Trust property with stunning elevated views overlooking Queenstown. Its offers elegant decor, a tranquil environment, two guest lounges, a recreational room as well as great outdoor space. You certainly won't feel you need to stay in your room! The house has very comfortable beds and guests staying in the main house are treated to a silver service hot breakfast. Occupants of the self-contained apartment cater for themselves and have access to the recreational facilities and gardens. Penghana is ideally situated for tourists and travellers wanting to experience the iconic Wilderness Railway, which leaves from the bottom of the hill, literally 2 minutes away. Penghana is two hours from Burnie and Cradle Mountain, 45 minutes from Strahan and four hours from Hobart. So an ideal spot to unpack once and explore the nature and history of this stunning west coast area of Tasmania and partake of numerous award winning tourism experiences. Guests become absorbed in the house's rich history, photographic displays, a host of treasures it offers.
Penghana Bed and Breakfast
32 Esplanade, Queenstown TAS 7467, Australia
Mt Lyell Anchorage
Queenstown is home to many of the Western Wilds' quirkiest attractions - check out the legendary gravel sports oval – and a range of historically fascinating and friendly places to stay, including Mount Lyell Anchorage and Penghana Bed and Breakfast. Mt Lyell Anchorage, Queenstown's finest accommodation, is the perfect place to relax after a long day exploring the countryside on your way to Tasmania's Western Wilderness. Luxury with a homely feel. Gorgeous bespoke bathrooms, comfortable beds, stylish mix of period and new furniture, quality inclusions and friendly host. Situated in the centre of town, close to cafes, hotels, supermarkets, Paragon Theatre, RoamWild Tasmania Tours, West Coast Wilderness Railway, Galley Museum and all town facilities. The "Anchorage" main house is over 120 years old and has been fully renovated to compliment the original features. Magnificent pressed tin ceilings, lovely timber panelling and fireplaces, four individual rooms with private bathrooms, as well as full kitchen and lounge/dining room with a cosy wood pellet fire to relax and mingle with other guests. We also cater for those who prefer self-contained accommodation. Built in the early 1960s to house mine workers, these two cottages are perfect for small families or groups. "Waratah Cottage" and "Tea Tree Bungalow" have two bedrooms, a bathroom and varying kitchen facilities.
Mt Lyell Anchorage
17 Cutten St, Queenstown TAS 7467, Australia
Iron Blow Lookout
The road into Queenstown is full of twists and turns, so take it slowly. Before descending the spectacular 99 Bends into town, marvel at the Iron Blow Lookout and follow the mountainside boardwalk to Horsetail Falls.
Iron Blow Lookout
Gormanston TAS 7466, Australia
West Coast Wilderness Railway (Queenstown Station)
From Queenstown, board the remarkable 35-kilometre West Coast Wilderness Railway steam train journey that snakes through the west's rugged wilderness to the coast at Strahan.
West Coast Wilderness Railway (Queenstown Station)
1 Driffield St, Queenstown TAS 7467, Australia
Salt Box Hideaways
Take the winding road to Strahan to finish the day's exploration at harbourside accommodation, where options include boutique Salt Box Hideaways, self-contained Wheelhouse Apartments , and the centrally located Strahan Village.
Salt Box Hideaways
91 Lettes Bay Rd, Strahan TAS 7468, Australia
KING RIVER RAFTING
Fancy a day jam-packed with wilderness adventures? Combine a steam-rail journey with thrilling white-water rafting and peaceful river drifting with qualified guides at King River Rafting. Expect spectacular landscapes and sightings of wildlife and rare Huon and King Billy pines, some of which are more than 3000 years old.
KING RIVER RAFTING
22 Esplanade, Queenstown TAS 7467, Australia
Esplanade
Start with a waterfront stroll along Strahan Esplanade, where interpretive signs tell stories of the convicts and pioneers who survived harsh conditions on the remote west coast.
Esplanade
Esplanade, Strahan TAS 7468, Australia
The Ship That Never Was
Join the audience for a performance of The Ship That Never Was, an interactive, family-friendly theatre production based on the true story of a daring convict escape from notorious Sarah Island.
The Ship That Never Was
10 B27, Strahan TAS 7468, Australia
Gordon River Cruises
Cruise across vast Macquarie Harbour to Hells Gates and into World Heritage-listed wilderness on the serene Gordon River with World Heritage Cruises or Gordon River Cruises. The award-winning Gordon River Cruise departs from Strahan and takes guests into the Tasmanian Wilderness World Heritage Area. Cruising the Gordon River on the purpose-built Spirit of the Wild, you experience quiet cruising under the power of the vessel's electric motors. Cross Macquarie Harbour to Hell's Gates, the narrow entrance into the Southern Ocean. You then cruise to the Gordon River, where you give yourself the best chance of seeing the famous reflections while on board Spirit of the Wild, the first cruise boat on the river each day. Step ashore at Heritage Landing and walk through the rainforest to see ancient Huon Pines. Step ashore again at Sarah Island, a 19th-century penal colony, hearing stories of the convicts who laboured there. Local guides enhance the tour with interpretation on the region's history. Seating is allocated to each guest. The main deck offers two seating styles - Main Deck Central and Main Deck Window. All are spacious and comfortable and include a delicious lunch that showcases Tasmanian produce. The third option is the Premier Upper Deck, including complimentary lunch, morning and afternoon tea, open bar and exclusive viewing deck.
Gordon River Cruises
24 Esplanade, Strahan TAS 7468, Australia
Spray Tunnel
Drive to the historical mining town of Zeehan. Nicknamed Silver City, it was once Tasmania's third largest town. Walk the Spray Tunnel, a 100-metre long abandoned train tunnel that once led to the Spray Silver Mine. Photo: Ollie Khedun
Spray Tunnel
West Coast TAS 7321, Australia
Hogarth Falls
Before leaving town, walk the 40-minute return track to Hogarth Falls, keeping an eye out for platypus in the creek.
Hogarth Falls
Botanical Creek, Strahan TAS 7468, Australia
West Coast Heritage Centre
Spend a few hours exploring the West Coast Heritage Centre for a fascinating insight into the area's industrial and social heritage. This seven-hectare site incorporates the restored Gaiety Theatre-Grand Hotel, once considered one of Australia's best theatres.
West Coast Heritage Centre
114 Main St, Zeehan TAS 7469, Australia