Snowy Mountains: a winter wonderland
From thrilling downhill slopes on pristine snow, beautiful resorts with glorious mountain views, magnificent glacial lakes, lively music festivals and superb dining and wine tasting, the Snowy Mountains is a winter wonderland. It's also home to Australia's highest mountain – the spectacular Mount Kosciuszko. Immerse yourself in snow play, build a snowman and admire the stunning alpine setting.
Located within Kosciuszko National Park in the Snowy Mountains, NSW has three snow resorts – Perisher, Thredbo and Charlotte Pass – each with amazing slopes and impressive views. Surrounding the park are pretty towns, with Tumbarumba in the west, Tumut in the north, and Jindabyne and Cooma in the east. The snow season starts in June but runs until October so you can enjoy fantastic skiing and snowboarding conditions during spring.
It's easy to drive to the Snowy Mountains – about a 2.5 hour-drive from Canberra and 6 hours from Sydney. Thredbo and Perisher can be reached by car, whereas Charlotte Pass can only be accessed by the oversnow transport from Perisher.
Thredbo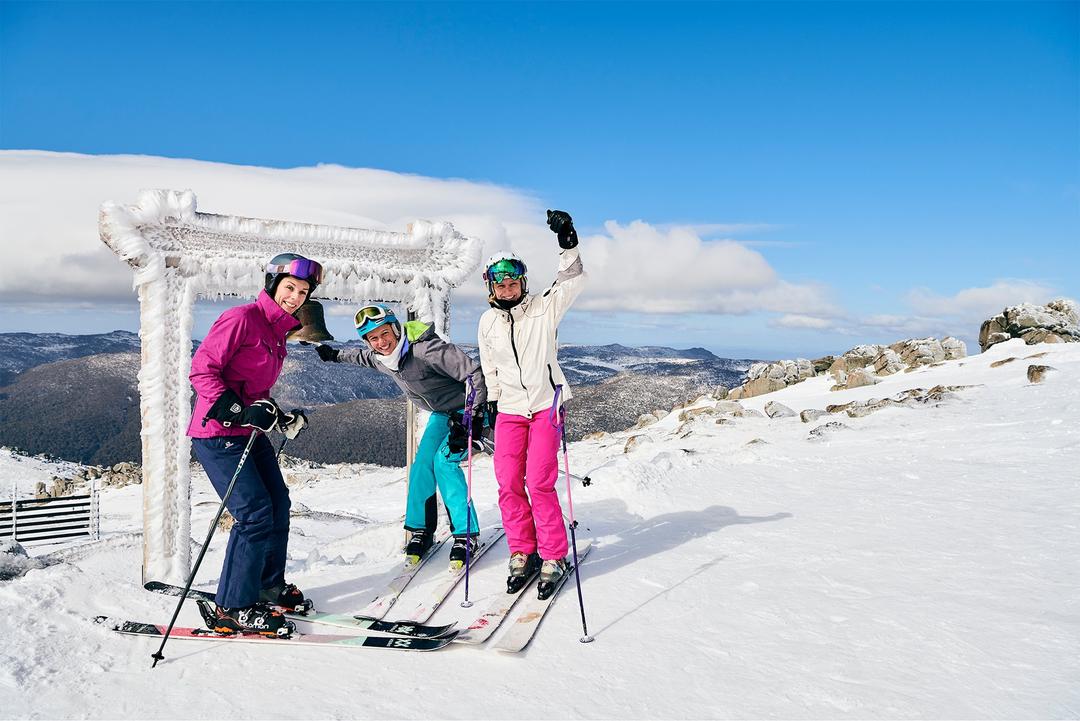 Thredbo is a picturesque, European-style alpine village, nestled into the foothills of Australia's highest mountains. Thrilling, steep and forested, Thredbo is ideal for both beginners and advanced skiers and snowboarders. You'll find dedicated beginner slopes and long advanced runs, including the longest ski run, the Crackenback Supertrail that twists and turns for more than five kilometres. Thredbo also boasts easy access to Australia's highest peak, Mt Kosciuszko. Enjoy a delicious hot chocolate or a meal at Australia's highest restaurant. Perched high above the beautiful Thredbo Village at 1937 metres, sits the spectacular Eagles Nest Restaurant. Ride the Kosciuszko Express Chairlift to the top of Thredbo to discover 270 degree views of the mountains, tasty meals and a selection of wines and drinks. Alpine Larder, sit back and enjoy the cosy rustic setting and local produce from the Snowy Mountains. Choose from traditional wood-fired pizzas and pastas, tasty tapas and delicious desserts.
Thredbo
Thredbo NSW 2625, Australia
River Inn
Location is everything on the slopes and the River Inn Thredbo is conveniently positioned next to the Gunbarrel Chair Elevator, allowing guests to ski in and ski out of the resort. After a day on the slopes, relax by the fire or treat yourself to a hearty meal in the Bavarian-themed restaurant.
Ski In Ski Out Chalets
Thredbo's only five-star chalets with ski-in/ski-out access are a little slice of luxury in the snow. The beautiful chalets sit on the edge of the Supertrail that runs right to the base of the village. There are 25 fully-equipped chalets — some with indulgent extras such as private jacuzzis or steam rooms.
Lake Crackenback Resort & Spa
Be surrounded by the breathtaking Snowy Mountains at Lake Crackenback Resort & Spa with self-contained Lake View apartments and Mountain chalets. Discover a spectacular 150 acre hidden oasis of natural bush land providing a range of activities like mountain biking, golf, an indoor pool and a fitness center and two dining options.
Perisher
Perisher is the largest ski resort in the Southern Hemisphere, with four distinct resort areas: Perisher Valley, Blue Cow, Smiggin Holes and Guthega. It's great for all ages and abilities with more than 1,200 hectares of skiable terrain, hundreds of runs, 100 kilometres of cross country trails, 47 lifts, five terrain parks and two halfpipes. Smiggin Holes (known as 'Smiggins') is widely regarded as one of the best beginners' ski resorts on the Australian snowfields.
Admire the breathtaking views as you travel on Perisher's Skitube — a Swiss designed rack-rail train that takes passengers from Bullocks Flat on the Alpine Way through a tunnel in the Ramshead Range to the Perisher Resort. It continues on to Blue Cow through another tunnel through the Perisher Range.
Perisher Ski Resort
Kosciuszko Rd, Perisher Valley NSW 2624, Australia
Perisher Valley Hotel
Sitting just 100 metres from the base of the Village 8 Express, the Perisher Valley Hotel is located in the heart of Perisher Valley. It has stunning views over the entire resort and easy access to facilities including Perisher's Snowsports School, Snowsports Hire and coffee shops.
Corroboree Lodge
Corroboree Lodge is a great ski-in ski-out accommodation in an excellent location opposite the Perisher Valley Express Quad chair. The property offers spacious and stylish rooms, a guest lounge and an extensive list of wines to unwind after a long day on the slopes.
Charlotte Pass
Charlotte Pass is a favourite with families and club skiers and, as Australia's highest resort (1,760 metres), receives some of the most consistent snowfalls. The resort is ideal for parents and children, with gentle slopes for beginners, plenty of intermediate terrain, as well as challenging advanced runs and cross-country trails. Facilities include a purpose-built fleet of oversnow transport — the only way to reach the Pass — plus you can take a snowshoe tour or a ride on the snow grooming machines.
Charlotte Pass
Charlotte Pass, Kosciuszko National Park NSW 2627, Australia
Kosciuszko Chalet Hotel
Originally built in 1930, the Kosciuszko Chalet Hotel is one of the premier accommodation venues in the Snowy Mountains. Known as the 'grand old lady of the mountains', it's Australia's original ski lodge. The hotel is located on the slopes so you can ski to the lifts right from the front door.
Snowbird Ski Lodge
Snowbird Ski Lodge has a superb location — right near the base of the Charlotte Pass Ski Lifts — and is renowned for its comfortable, cosy rooms.
Jindabyne
Located on the edge of beautiful Lake Jindabyne, this scenic town is a great base near the snowfields and offers horse riding, mountain biking, bushwalking, fishing, gourmet delights and vibrant nightlife. Many skiers choose to stay in the town of Jindabyne — it's just a 30-minute drive from Thredbo and Perisher. There's plenty of casual cafes, restaurants and stores for shopping in the town of Jindabyne. For an alpine ale, visit Jindabyne Brewery and the award-winning Wildbrumby Distillery, which crafts Schnapps from locally-grown Australian fruit.
Jindabyne
Jindabyne NSW 2627, Australia
Rydges Horizons Snowy Mountains Jindabyne
Rydges Horizons Snowy Mountains Jindabyne offers affordable, high-quality accommodation on the shores of picturesque Lake Jindabyne with cosy, well-appointed rooms, two restaurants, a bar, indoor swimming pool and tennis courts.
Winter activities and entertainment
The fun doesn't stop when the sun goes down in the Snowy Mountains. Celebrate the opening weekend of the snow season at the Perisher Peak Festival which features over 100 amazing concerts across 10 venues across the Perisher snowfields. Watch the sky sparkle with the fireworks display held every Tuesday night in Perisher in Front Valley at 7.20pm. There's also free entertainment the whole family can enjoy.
Don't miss the flare run on Saturday nights, when advanced skiers and snowboarders take to the slopes with flaming flares, creating an extraordinary light show. On Thursday nights kids have their turn, with flashing LED lights given out as they descend the gentle slopes.
Credit: Destination NSW, Perisher
Have Story To Share?
Blog with Trip.Social
Reach new audiences and maximize your potential.