Port Stephens - Aquatic playground and holiday haven
A holiday in Port Stephens is all about the sea and sand, tasting freshly caught seafood, wading in the clear waters and sand boarding down the spectacular Stockton Sand Dunes. With golden beaches, a vast sparkling blue bay and exciting water and shore-based activities, Port Stephens is an idyllic beach getaway and the dolphin capital of NSW. Explore the amazing hikes and pristine inlets suited for snorkelling, stand-up paddle boarding and swimming.
Getting there: Port Stephens is a two-and-a-half hour drive north of Sydney and a 30-minute drive from Newcastle Airport.
See dolphins and whales in the wild
With approximately 150 bottlenose dolphins inhabiting the waters of Nelson Bay, Port Stephens is known as the dolphin capital of NSW. For many, swimming with wild dolphins is a 'bucket list' experience and with Dolphin Swim Australia you can swim in the open ocean next to these amazing marine mammals. Moonshadow TQC Cruises also offers options for cruising with the bay's resident dolphins and whales. Watch in awe as you witness these extraordinary animals show you a display of pectoral slaps and body rolls.
Alternatively, set sail aboard a 16-metre-long catamaran with Imagine Cruises. Witness the whales as they migrate past the islands of the Port Stephens-Great Lakes Marine Park and keep your eyes peeled for dolphins and flocks of oceanic sea birds. Departing daily from Nelson Bay, Imagine Cruises also offers a 90-minute whale-watch express tour.
Animal encounters
There are plenty of other wildlife experiences too, including camel riding on the largest moving coastal sand dunes in the Southern Hemisphere and Oakvale Wildlife Park where you can get up close to Australian native animals on 25 acres of natural bushland. The park offers visitors the chance to bottle feed baby farm animals and learn more about the wildlife, including koalas, kangaroos, wombats and emus. For unique interactions with marine life and a guided shark encounter tour, visit Irukandji Shark and Ray Encounters.
Surf incredible breaks
Port Stephens is renowned for its amazing surf breaks — the superb swell makes the conditions favourable for both experienced and novice surfers who love to lap up the waves at the pristine beaches and bays. Learn to surf with Port Stephens Surf School — the region's premier surf teachers — or if you're a skilled surfer in search of that perfect wave, try One Mile, Zenith Beach, Fingal Bay Beach or Birubi Beach.
Explore the sand dunes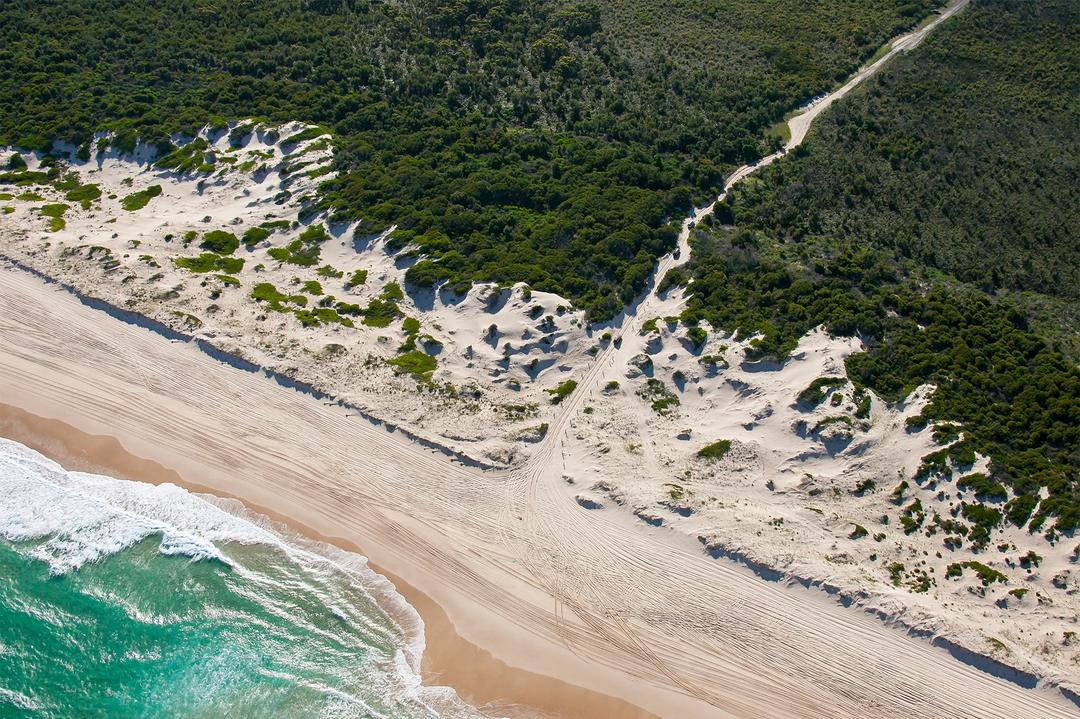 Set amongst a backdrop of rolling sand dunes, Port Stephens is home to the largest moving coastal dunes in the Southern Hemisphere, created thousands of years ago. Stretching 32 kilometres to Newcastle, the magnificent and Instagram-worthy Worimi Sand Dunes on Stockton Beach are reminiscent of one gigantic sandpit nestled alongside the spectacular coastline. Towering as high as 40 metres, the steep sandy slopes cover 2500 hectares and can be explored by foot, quad bike or 4WD. Discover the endless dunes and experience the thrill of quad biking with Sand Dune Adventures. Guests traverse the majestic landscape of the dunes on a 400cc quad bike. Port Stephens 4WD Tours operates 4WD eco-tours of the dunes and the opportunity for sand boarding thrills and adventure for the whole family. For those who prefer to enjoy the serenity as they explore the beautiful sandscape, there is also horse riding on the beach and camel tours are available. Saddle up with Sahara Trails or try camel riding with Oakfield Ranch as you marvel at the extraordinary natural beauty of the vast sand dunes and desert-like landscape.
Go hiking
Don't forget to take a hike to the summit of Tomaree Head, 161 metres above the Port Stephens entrance. As you hike the track, you'll enjoy panoramic views of Port Stephens and its coastline. From the top, you can see Yacaaba Headland, Cabbage Tree, Broughton Islands, Fingal Island and Point Stephens Lighthouse, which was built in 1862.
Dining
Port Stephens has a range of acclaimed waterfront restaurants, hip cafes and impressive wineries and breweries to visit. From succulent seafood to macadamias, avocados and grape vines that thrive in the rich soils, this region is renowned for its exceptional produce.
Waterfront dining
Enjoy a farm-to-table experience at Cookabarra Restaurant, sample the fresh fish and chips and take a tour of the famous barramundi farm. If you're looking for a stunning seaside dining experience, Little Beach Boathouse offers beautifully cooked local produce in a magnificent beachside setting. The menu is fresh modern Australian cuisine and the coastal decor, combined with the spectacular ocean views make it a popular destination among visitors and locals.
On Soldiers Point Peninsula, visit the famous Rick Stein restaurant at Bannisters — it's the perfect location for freshly caught seafood and great wine. The focus is on locally sourced produce — the restaurant serves up simple dishes, which are cooked to perfection and bursting with flavour.
The Galley Kitchen at The Anchorage is an all-day diner offering a seasonal menu featuring local produce, seafood and share platters. Bright and breezy, this impressive restaurant showcases the region's growing culinary reputation and incredible produce. The Anchorage is also home to the infamous High Tea by The Sea. Treat yourself to bottomless bubbles, delicate finger sandwiches, petite pastries and delicious sweets, while overlooking the picturesque Port Stephens marina.
Alternatively visit a local favourite, The Little Nel Café in Nelson Bay which serves breakfast and lunch on a sun-drenched deck overlooking the bay. At Shoal Bay Country Club you can savour the water views with multiple bars and restaurants spread across the chic beachfront venue.
Try the local wine, craft beer and produce
Known for producing full-flavoured beers, Murray's Craft Brewing Co pushes the boundaries for brewing, offering a range of quirky craft beers. Angry Man, Whale Ale, XPA and East Coast Lager are all good places to begin training your palate before unleashing the flavour tsunami contained within beers like Spartacus, Wild Thing, Heart of Darkness or Punk Monk.
The Salt Ash and Bobs Farm neighbourhood are the food bowl of the peninsula with working farms and vineyards hugging the coastline and providing foodies with farm-gate fresh produce. Pack your picnic basket with supplies from a farm gate: avocados, figs, macadamias or olives, along with local prawns and oysters fresh from seafood shops at the Nelson Bay marina.
Credit: Destination NSW
Have Story To Share?
Blog with Trip.Social
Reach new audiences and maximize your potential.