One Day in Bacalar, Mexico
Maybe you have heard about Bacalar, Mexico? Perhaps you have visited other places in Mexico. Read all about why Bacalar should be next on your list, and why I think Bacalar is Better than Tulum!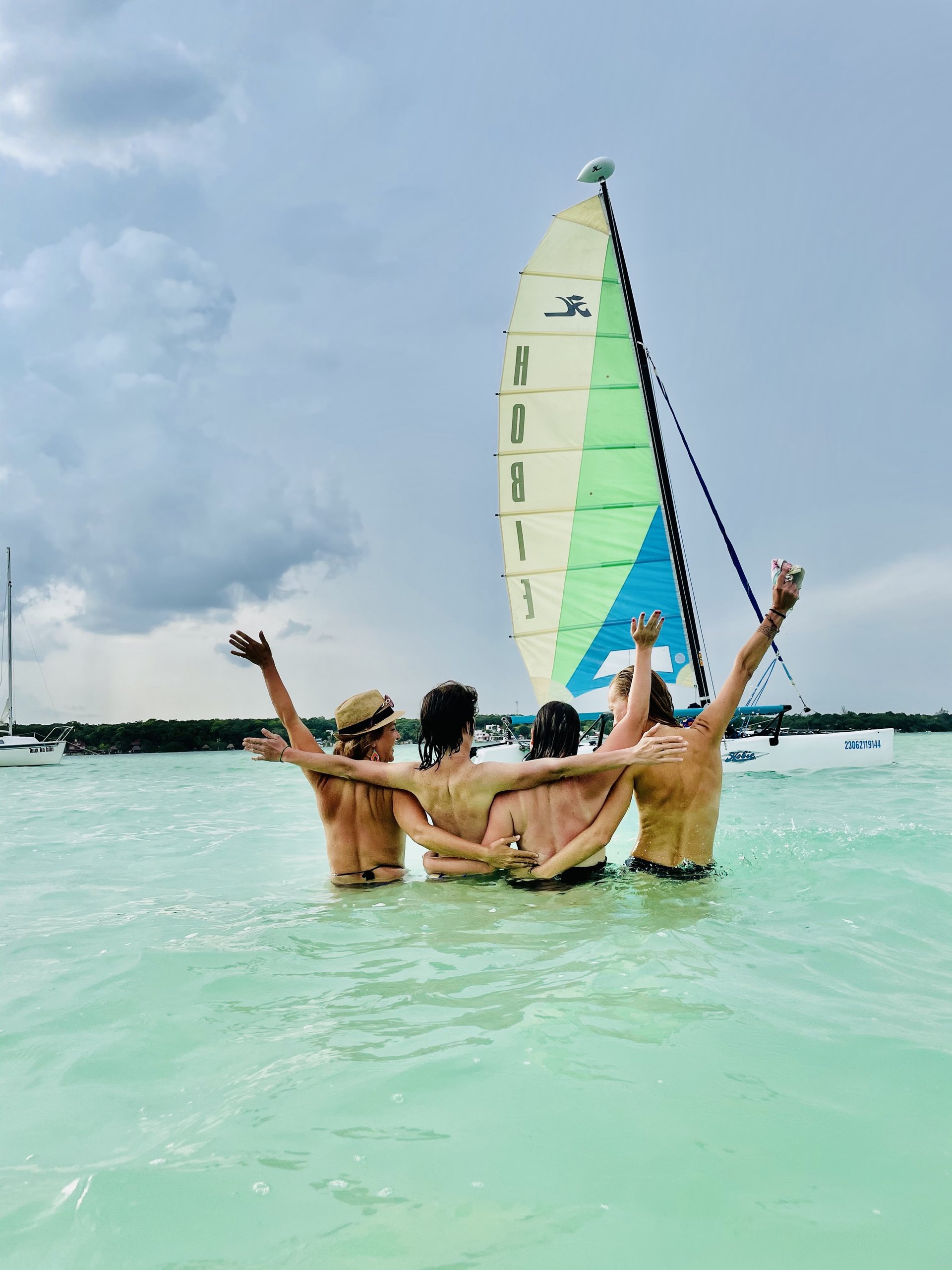 Getting to Bacalar, Mexico
You may find flights to Cancun Airport, the closest airport to Bacalar, from most Southern states in the USA directly. I flew to Cancun from Guatemala via Volaris Airlines in May 2021. There are plans underway for an airport in Tulum, which would be closer, as well as a train in the Yucatan Peninsula.
Bacalar, Mexico is about 5 hours south of Cancun, Mexico or 3 hours south of Tulum, Mexico making it easy to get to from the airport.
In 2019, I visited Mexico at the time, Uber operated fully from Cancun Airport. As of July 2021, there is no Uber at Cancun Airport. You may get one from within Cancun. I found the Taxi is 3 to 4x more than Ubers.
My Experiences with Bacalar, Mexico
This is my first time in and near Bacalar, Mexico. While I have visited Mexico over 4 times before, this is my first time in Bacalar, Mexico. It will likely not be my last.
In the center, you will find Fort, Bacalar Sign, What SUP Bacalar in YAK Lake House, Bacalar Cafe, Mango y Chile, and nearby Picaflor, To the right of Picaflor, you will find some hotels near the lagoon, and the public pier at Calle or Street 36. In the opposite direction from YAK Lake House, you will find Cenote Cocalitos, Cenote Azul, and further Bacalar Rapids.
Fun Facts About Bacalar, Mexico
The town of Bacalar was raided by pirates in the 17th Century via what is now called the Pirates Channel. When you sail through the channel, you are literally sailing through historical moments. With the completion of San Felipe's fort, the Spanish Crown finally was able to defend Bacalar.
In 2006, Mexico Tourism Board designated Bacalar as a Magic Town. New York Times has speculated that Bacalar may be the next Tulum. While I do hope Bacalar grows in tourism over their average of 200,000+ visitors annually from 2019, I hope they uphold the protection of the lagoon, the environment, and the peaceful sanctuary in nature.
I love visiting Bacalar, Mexico and enjoying the nature and adventure that surrounds the town.
One Day in Bacalar, Mexico
Let's explore the experiences I recommend for one day in and near Bacalar, Mexico.
If you read my One Day in Tulum, Mexico guide, you know there are some things I didn't like about Tulum. What is interesting is that everything I didn't like about Tulum, completely reversed in Bacalar.
In comparison, in Bacalar, Mexico, the taxis cost 20-50 pesos for the most part as of July 2021, low minimums for beach clubs, lower rates for stays overall, and rates as low as 25 pesos for a Cenote.
My recommendations for One Day in Bacalar, Mexico includes sunrise at the pier and/or Stand Up Paddle Boarding, visiting the Fort and Bacalar sign, Cenote Cocalitos, Sailing at Sunset, and my favorite foodie spots in Bacalar! Not to mention, Bacalar Rapids nearby or visits to a Beach Club!
Sunrise in Bacalar, Mexico
A great way to start your day in Bacalar, Mexico is to go to one of the public piers for sunrise. Anywhere on the lagoon, you will catch the sunrise right in front of you!
Stand Up Paddle Boarding
Stand Up Paddle Boarding is the best way to experience the sunrise in Bacalar! With What SUP Bacalar, Stand Up Paddle Boarding at sunrise takes on a whole new level! I went paddleboarding across the lagoon to Cenote Negro and Pirates Island for over 4 miles with Jenn and her sister!
Cenote Cocalitos
Cenote Cocalitos is one of the most beautiful Cenotes I have visited. It is open air with clear water. It is easy to see why Bacalar gets the name the Maldives of Mexico when you visit. You may easily take a taxi for about 50 pesos. If you love to walk or bike like me, it is about 5km / 3 miles.
I visited Cenote Cocalitos and walked both times! In August 2021, the price is 50 pesos / about $2 - $3 USD!
Sailing at Sunset
Just when you think it can't get any better in Bacalar, it does. The BEST way to end your day in Bacalar, Mexico is to go sailing at sunset.
It is absolutely breathtaking, and one of the best experiences you will have in your life!
Bacalar, Mexico Visit
Whether you visit Bacalar, Mexico for a short stay or longer like I did, you will love it! I visited for two weeks and the time flew by!
Bacalar, Mexico has limitless options for One Day and more!