Mighty Murray way road trip: Explore the Murray River on water and on land
The Murray River in South Australia flows for almost 2500 kilometers from the Snowy Mountains to the Southern Ocean. Discover the Mighty Murray Way, one of the world's longest rivers, and follow its laid-back pace. Cruise the Murray River through its various landscapes from the Riverland to the Murray Mouth to witness breathtaking scenery and learn about how life has evolved along the majestic Murray. Start your exploration with our list to the top things to see and do along the Might Murray Way, which includes everything from rich Aboriginal culture to microbreweries and gourmet produce, riverboats and cruises.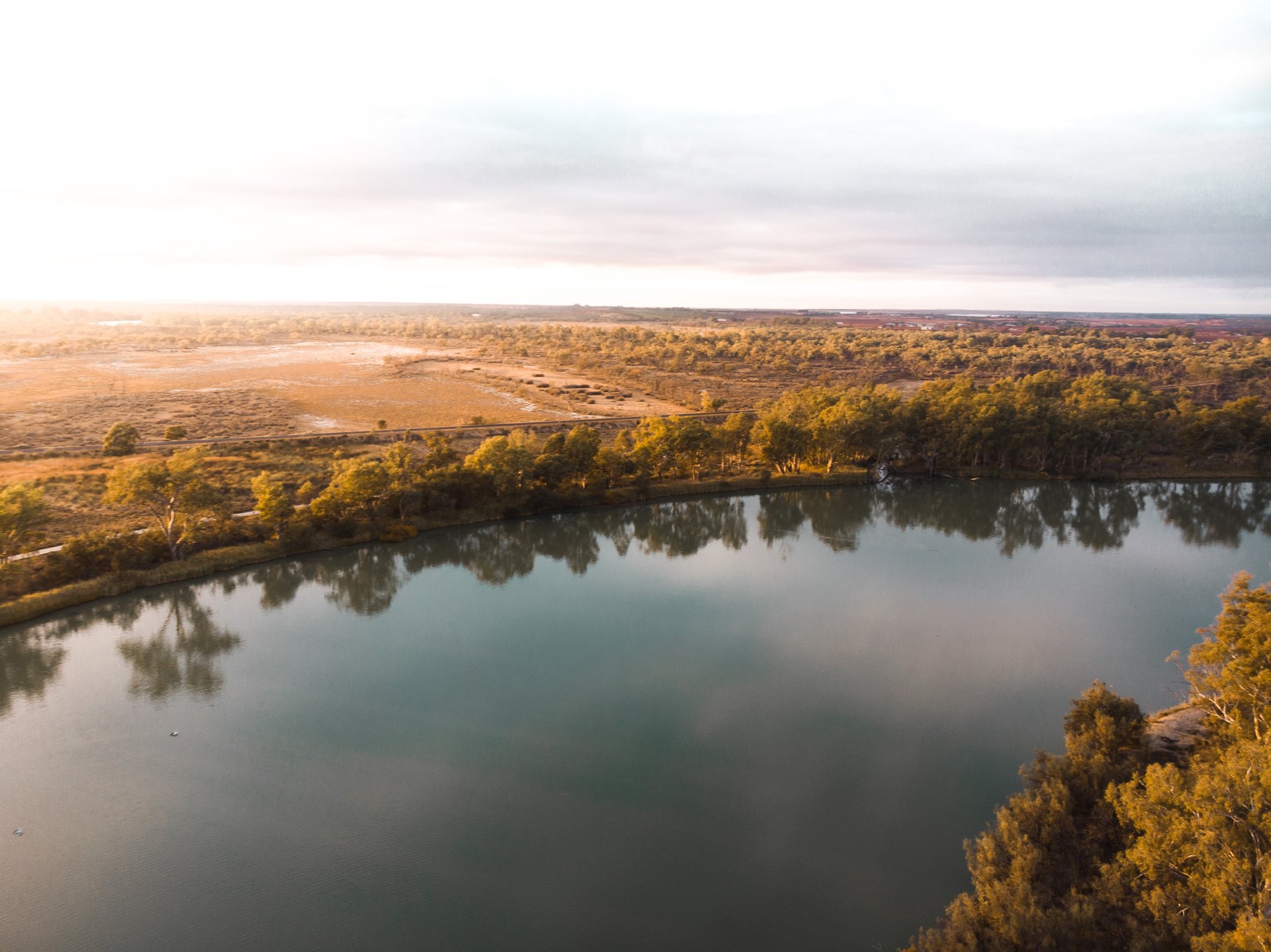 Wilkadene Woolshed Brewery, Murtho
A quick trip from Renmark, the Wilkadene Woolshed Brewery is located in the historic 100 year-old shearing sheds of Wilkadene Station. Its rich history, stunning riverfront location and beautiful gardens make it the perfect place to kick back and relax, bottle of local brew in-hand. Drink in the beautiful vistas and pleasant, casual ambiance while relaxing with a River Time Session Pale or something heavier like the Firehouse Coffee Stout - prepared with Riverland roasted coffee. There's also wine and a variety of Hard Lemonade, Rude Ruby, and ciders to select from.
Woolshed Brewery
Woolshed Brewery, Wilkinson Road, Murtho SA, Australia
Monash Adventure Park
If you're travelling with little ones in tow, Monash Adventure Park just outside Berri is the perfect pit stop for everyone to stretch their legs. Before fanning out on the beautiful meadows and letting the kids run wild on the playground's leaning towers, rope bridge, wave bridge, flying fox, and slides, grab some groceries from Aggie's Fruit Stall and some munchies from Almondco. Afterwards, take some time out for the big kids; a refreshing G&T awaits just down the road at Renmark's Twenty Third Street Distillery and local fortified wines are primed for tasting at 919 Wines.
Monash Adventure Park
Monash Adventure Park, Madison Road, Monash SA, Australia
The Village, Loxton
Ever wanted to travel back in time? Take a trip back to the past and experience what life was like for the pioneers of the region at Loxton's The Village. Perfect for family exploration, uncover the stories of the region's early settlers with sheep shearing demonstrations, tractor parades, and live demonstrations at the bakery and blacksmith shop, before heading to the child-friendly Pioneer Playground. After working up an appetite, savor the region's wide range of products from legendary citrus farms or sample award-winning wines at Salena Estate before retiring to your own luxury apartment at the Loxton Courthouse for the night.
The Village
The Village, Scenic Drive, Loxton SA, Australia
Lake Bonney, Barmera
Pull up at the tortured trees of Lake Bonney, which have been photographer favourites for decades with evening skies acting as the perfect backdrop for a sunset spectacular. In fact, you'll be hard-pressed to find a more picturesque spot watch the sun disappear after a day on the road. Beyond the amazing light shows, this watery beauty is a magnet for swimmers, water skiers, and boaters, making it one of South Australia's most popular aquatic playgrounds. Set your camp at Discovery Parks Lake Bonney for a few days of lakeside relaxing with a local Twenty Third Street gin in hand to take a break from the road.
Lake Bonney
Lake Bonney, Barmera SA, Australia
Banrock Station, Kingston on Murray
Next, set your coordinates for Banrock Station and get ready to wine and dine surrounded by a wetland brimming with wildlife. Banrock Station Wine and Wetland Centre, nestled in an internationally recognized wetland system just minutes from Barmera, is the ideal site to relax and sip some of the region's greatest wine against a panoramic backdrop of wetlands and vineyards. Step outside the cellar door to meander along scenic walking trails, view birds, and learn about natural animals. If you're feeling peckish, head down the road and enjoy a regional food experience showcasing the diverse local produce on offer at Flavours of the Riverland.
Banrock Station Wine and Wetland Centre
Banrock Station Wine and Wetland Centre, Holmes Road, Kingston on Murray SA, Australia
Overland Corner Hotel
This landmark drinking hole, built in 1859 and thought to be the region's oldest hotel, was originally a popular resting point for drovers and passengers of paddle boats and stage coaches. With a cuisine including local produce and an extensive beer collection, the ancient Overland Corner Hotel is now a popular long-lunch venue for residents and blissed-out holiday makers on the Riverland. A stone's throw from the Murray River from where the steamers used to dock, the National Trust site is adorned with impressive memorabilia and offers history tours where you'll learn about the bushrangers who once frequented the bar and maybe even meet the resident ghost, Captain Moonlight.
Overland Corner Hotel
Overland Corner Hotel, Old Coach Road, Overland Corner SA, Australia
Rivergum Cruises, Waikerie
Swap the car for a cruise along the river and explore some of the most picturesque locations along the mighty Murray with Rivergum Cruises. Casting off from Waikerie, wind the clock back to river time and glide through tranquil wetlands brimming with birdlife, along bending red ochre limestone cliffs and past towering native gum and Mallee trees flourishing on the picturesque banks. Back on land, there's lots to explore in Waikerie. Affectionately known as the town where the sun shines year-round and surrounded by groves of fruit trees, it's the perfect place to sample the local stone fruit, ginger beer, delicate preserves, olive oil and wild dukkah at Illalangi Gourmet Foods.
Rivergum Cruises
Rivergum Cruises, Leonard Norman Drive, Waikerie SA, Australia
Ngaut Ngaut Aboriginal Site
Next, step back in time millions of years and journey through the ancestral home of the Nganguraku People. Meander along the banks of the Murray, marvel at the majestic cliffs formed eons ago by an extinct sea bed and experience ancient rock art as you explore Ngaut Ngaut Conservation Park and learn about the area's important dreaming and culture from a local guide. This hidden jewel, nestled between Waikerie and Mannum, is one of South Australia's most important aboriginal cultural places and the cradle of Black Duck Dreaming.
Ngaut Ngaut
Ngaut Ngaut, Nildottie SA, Australia
Monarto Safari Park
Next stop: Africa. Well, close enough. Don your best khaki kit and set-off on an African safari at Monarto Safari Park. Watch lions, cheetahs and zebras roam over a 1,500 hectare open-range sanctuary, all from the comfort (and safety) of a shuttle bus. Take your sense of adventure to the next level with the Lions 360 Experience and enter a giant tooth and claw-proof cage, where you'll watch lions stalking above you from a preys-eye view!
Monarto Safari Park
Monarto Safari Park, Old Princes Highway, Monarto South SA, Australia
Wharf Precinct, Goolwa
Toast to an epic road trip with one of Australia's official best whiskeys at the final destination along the Might Murray Way. Arrive at Goolwa, a historic river port where the Murray mouth and the Southern Ocean meet, and head directly for the wharf precinct, where the Fleurieu Distillery offers award-winning whiskeys. Grab a bottle of their single malt - Fountain of Youth or Message in a Bottle - for the perfect memory of your road trip, which is located in ideal location on the Goolwa Wharf and was recently crowned Champion Australian Whisky at the Australian Distilled Spirit Awards.
Hungry? Stop off at Kuti Shack for a locally-sourced feast featuring pipis foraged from the surrounding waters. After lunch, cruise along the last stretch of the Murray to the river mouth and across into the Coorong National Park with Cruise the Coorong or Spirit of the Coorong. Explore stunning secluded beaches and wetlands brimming with life, dig into a delicious lunch and learn about the Coorong's rich Aboriginal history. Afterwards, cosy up on the water's edge at River's End Retreat, a fully hosted luxury escape on the final bend of the Murray.
Wharf Precinct
Wharf Precinct, Murray Bridge SA, Australia