Kakadu & Surrounds 3 day itinerary
Make the most of your three days in Kakadu National Park by exploring its richness and beauty. Discover historic local Aboriginal art with the help of skilled guides. On a river tour, get up up and personal with the world's largest reptile and learn about native fauna. Take to the skies to see the park's spectacular floodplains and escarpment country from above. Learn about Australia's oldest living culture's legends and rituals, and end your days with a view of Kakadu's famous sunsets.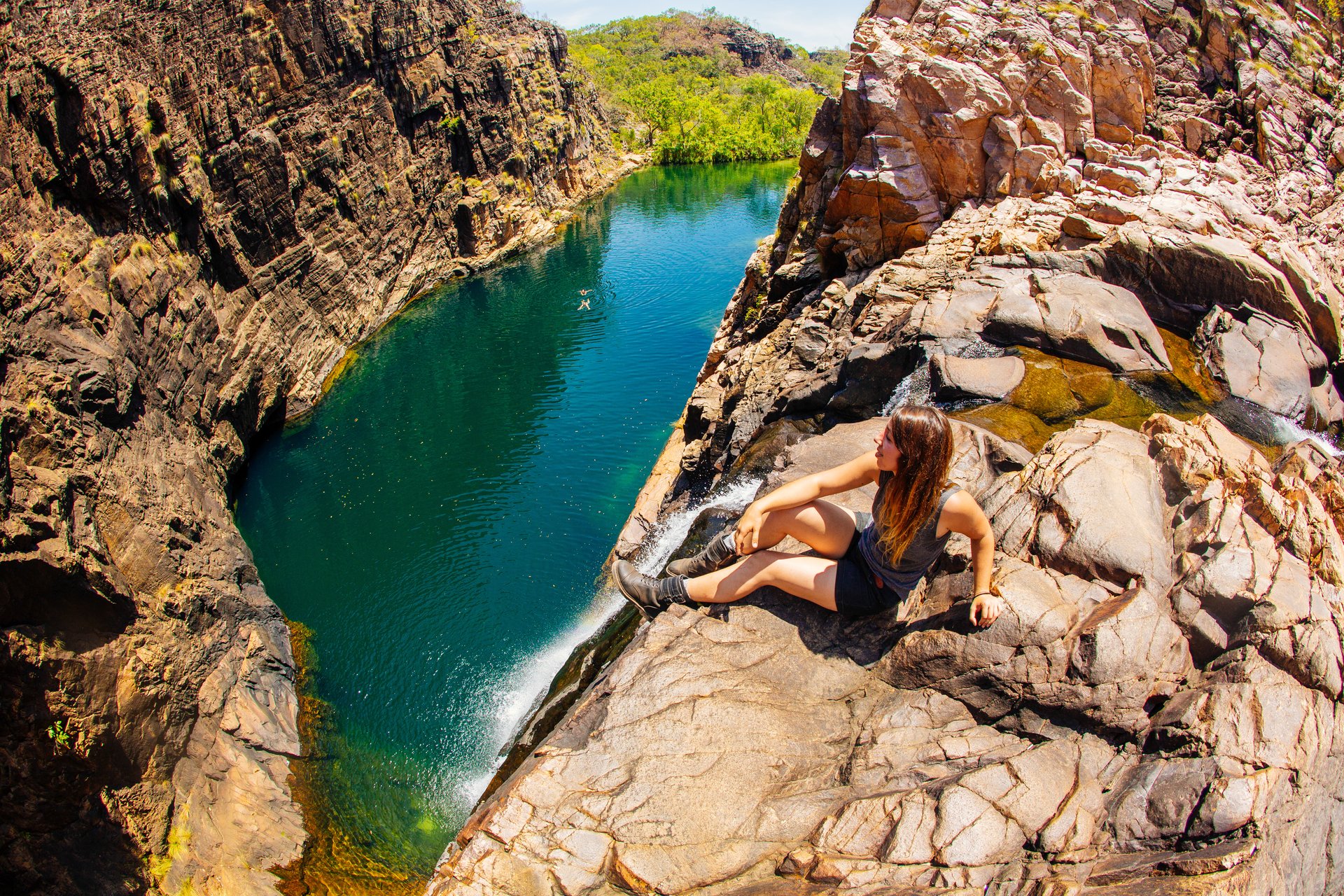 Day 1
Start early to get the most out of your day
Early in the morning, leave Darwin on the Stuart and Arnhem highways for the 2-hour drive to Kakadu National Park's northern entrance. Because certain spots are only accessible through an unsealed route, a 4WD vehicle is highly advised for this journey. A park pass is essential because you will be entering Aboriginal land. Your pass grants you access to the park, as well as ranger-led hikes and talks and interpretive materials. Your pass can be purchased online or at a number of places in the Top End. Visit the Parks Australia website for further information.
Kakadu National Park
Kakadu National Park, Kakadu Hwy, Jabiru NT, Australia
Begin your adventure at Bowali Visitor Centre
The Bowali Visitor Centre will be your first visit. Before wandering through the informative displays and galleries, stop for a drink at the cafe. Remember to check with the Visitor Centre staff if there are any road closures or conditions you should be aware of for your travel through Kakadu.
Bowali Visitor Centre
Bowali Visitor Centre, Kakadu Hwy, Jabiru NT, Australia
Cruise on the East Alligator
It's now time to visit some of the park's attractions. Join a cultural tour on the East Alligator River to see Kakadu from the river. While your native guide discusses culture, creation stories, bush foods, and survival tactics, keep a watch out for crocodiles.
East Alligator River
East Alligator River, West Arnhem NT, Australia
Be prepared and arrange a permit to Arnhem Land
Apply for an entry permit to Arnhem Land ahead of time so you can cross the border at Cahill's Crossing to see the Injalak Art Centre. The centre sells high-quality Aboriginal art that is all manufactured in the area. You may also be able to witness local ladies weave pandanus baskets while watching the artists at work. You can apply for a tourism permit to visit Arnhem Land online with the Northern Land Council; please allow time for processing before your trip. You can also apply for permits on the spot at the NLC office in Jabiru, but make sure you have some time on your hands because the permission can still take a few days to be authorized. Cahill's Crossing is a tidal river that requires 4WD to traverse during certain seasons. If you don't have a 4WD, there are a number of tour operators who travel into Arnhem Land on a daily basis and will help you get your permits.
Arnhem Land
Arnhem Land, NT, Australia
Take advantage of free Dry Season activities
If you visit during the dry season, take advantage of the seasonal ranger program, which offers over 40 free activities each week, including cultural displays, guided walks, nighttime slideshows, and rock art presentations.
Experience a famous Ubirr sunset
The late afternoon guided walk to Ubirr, one of Kakadu's most popular attractions, is a must-do; the local guide will explain the meanings of the old Aboriginal rock art, and you'll end the trip atop Ubirr in time for a spectacular sunset and unforgettable views across the floodplains.
Ubirr
Ubirr, Kakadu NT, Australia
Rest your head in Jabiru
Tonight, I'll be staying in Jabiru, Kakadu's largest municipality, which offers a range of lodging options, including camping and motels.
Jabiru
Jabiru NT, Australia
Day 2
Take in the views from the sky
Today, fly over Kakadu National Park to witness its diverse landscapes and magnificent landforms. Scenic flights depart from Jabiru airport on a daily basis, and if you travel between December and May, you may circle the Jim Jim and Twin falls at their most beautiful.
Kakadu National Park
Kakadu National Park, Kakadu Hwy, Jabiru NT, Australia
Soak up history at the Nourlangie rock art site
Pack your 4WD and go south from Jabiru to the Nourlangie rock art site, which has been used as a storm shelter by local Aboriginal people for thousands of years. The artwork on the walls provides a glimpse into their rich spiritual heritage. During the dry season, the site offers free activities on a daily basis.
Challenge yourself to the top of Mount Cahill
Mirray Lookout is just up the road. If you're feeling energetic, try the 3.6-kilometer return trek to Mount Cahill's summit, which takes around 1.5 hours. The breathtaking panoramic vistas of central Kakadu's escarpment and floodplains will not disappoint.
Mount Cahill
Mount Cahill, Kakadu NT, Australia
Make your way to Cooinda Lodge
Proceed to Cooinda Lodge. The Warradjan Cultural Centre is a must-see. You can learn about the local Aboriginal people's culture and beliefs while also seeing traditional weaving and culinary techniques.
Cooinda Lodge Kakadu
Cooinda Lodge Kakadu, Kakadu Hwy, Kakadu NT, Australia
Absorb the changing landscapes of Yellow Water Billabong
On a Yellow Water Billabong sunset tour, get to know Kakadu's most famous wetland. The billabong is home to crocodiles and a diverse assortment of resident species, and it's the finest opportunity to see the wetland wildlife in their native habitat. As the sun sets, witness the spectacular Brolgas dance while your knowledgeable guide tells you about the Bininj people's usage of flora and fauna to sustain their way of life.
Yellow Water Billabong
Yellow Water Billabong, Kakadu Hwy, Kakadu NT, Australia
Or get in the action with a fishing tour
If you want to be right in the middle of the action, a Yellow Water Fishing Tour might be for you. You'll have the chance to capture the legendary barramundi on Kakadu's most iconic billabong, guided by skilled fishing guides. If you catch a big one, you can hire a chef to prepare it to your specifications. It'll be a fishing trip you'll never forget.
Unwind at Cooinda Lodge
Return to your Cooinda Lodge lodging and make the most of your final evening in Kakadu National Park. Raise a glass to a day filled with adventure and one-of-a-kind experiences before retiring for the evening.
Cooinda Lodge Kakadu
Cooinda Lodge Kakadu, Kakadu Hwy, Kakadu NT, Australia
Day 3
Hit the road for Gunlom
Today is your last day in Kakadu National Park, so get up early, pack your 4WD, and restock your cooler box with enough food and water to last the remainder of your journey, then hit the road again – this time to Gunlom Plunge Pool, which is located farther along the Kakadu Highway. The drive itself is spectacular and takes about two hours from Cooinda.
Stopover at crystal clear Maguk
Make a pit stop at Maguk to break up the journey. A short walk to the foot of the Maguk waterfall is well worth the effort, as you'll be rewarded by a crystal clear pool and quiet cascade, making it the ideal spot to rest in the mid-morning sun.
Barramundi Gorge (Maguk) Waterfall
Barramundi Gorge (Maguk) Waterfall, Kakadu NT, Australia
Bask in the views at the Gunlom infinity pool
When you're ready to get back on the road, head north on the Kakadu Highway to Gunlom, a beautiful spot with a flowing waterfall feeding into a plunge pool below. If you ascend the 15 minutes to the top of the falls, you'll reach the famed natural infinity pool, which offers spectacular views of southern Kakadu. Relax and enjoy the tranquility of the midday sun in the picnic places covered by big gum trees.
Gunlom Waterfall Creek
Gunlom Waterfall Creek, Gulung Mardrulk NT, Australia
Make a Pine Creek stop over
Make your way back to Darwin via the Kakadu Highway. Have a stopover at Pine Creek, a town you'll find near the intersection of the Kakadu and Stuart Highways. There are several places to relax with a cool drink and a chat with the locals. Continue on your way back to Darwin, reliving memories of your Kakadu adventure.
Pine Creek
Pine Creek NT, Australia