Hidden Gems & Unordinary Places to visit in New York
Tired of the usual tourist traps in NYC? We visit 7 More Amazing Hidden Gems & Secret Spots that are off-the-beaten path.
No Particular Hours
Everything about No Particular Hours stands out. Amongst the rows of brownstones along Chelsea Lane, the thrift shop's green garage door seems quite out of place. Through the strange gateway lies an even more peculiar discovery. There are no parked cars or mechanics at work. Rather, visitors should expect the unexpected. No Particular Hours contains the most harmonious hodgepodge of chaos. One will find vintage typewriters stacked on antique furniture, ornate light fixtures hanging from the ceilings, overflowing bins of mix-matched buttons, and aged photo negatives.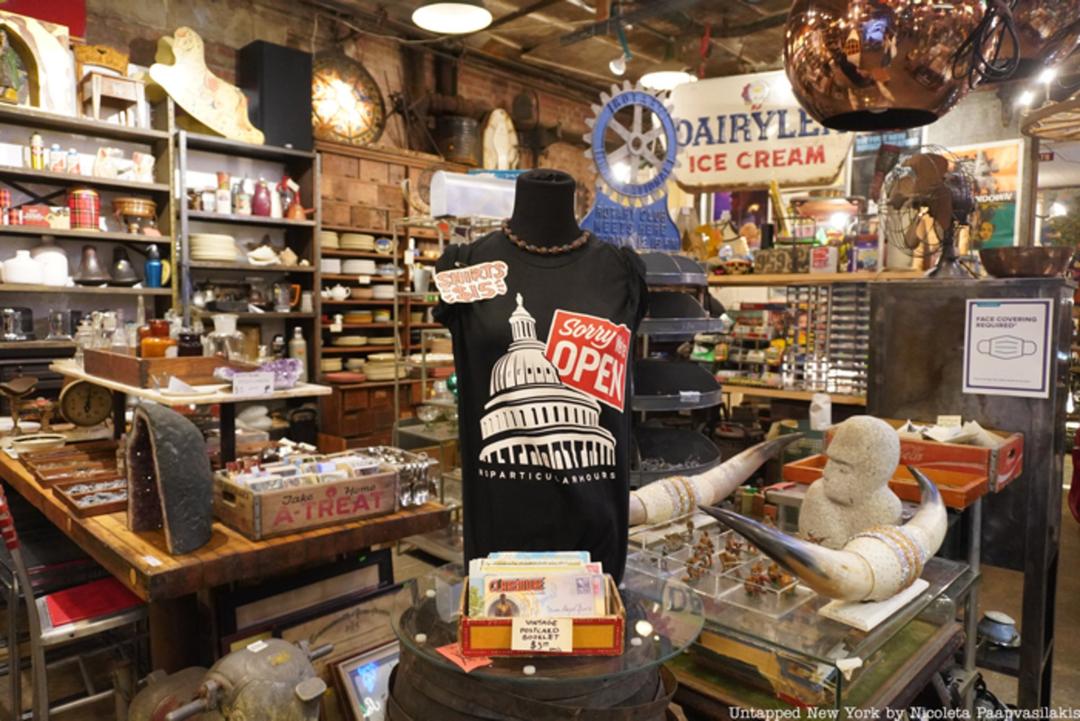 No Particular Hours advertises "vintage goods, industrial artifacts, and dead people things". Yes, you read correctly, dead people things. Patrons of the store sell or donate vintage items that were owned by their relatives who have past away. Resultantly, No Particular Hours is a thrift store that is invigorated by history. It is a place where the lost and forgotten can be recollected. You can find everything from a bizarre collection of lucky horseshoes to patchwork sets of dainty teacups, and each item tells a story.
Check their Instagram for Hours: @noparticularhours
No Particular Hours
247 W 16th St, New York, NY 10011, USA
AT&T Long Lines Building
They called it Project X. It was an unusually audacious, highly sensitive assignment: to build a massive skyscraper, capable of withstanding an atomic blast, in the middle of New York City. It would have no windows, 29 floors with three basement levels, and enough food to last 1,500 people two weeks in the event of a catastrophe.
But the building's primary purpose would not be to protect humans from toxic radiation amid nuclear war. Rather, the fortified skyscraper would safeguard powerful computers, cables, and switchboards. It would house one of the most important telecommunications hubs in the United States — the world's largest center for processing long-distance phone calls, operated by the New York Telephone Company, a subsidiary of AT&T.
The building was designed by the architectural firm John Carl Warnecke & Associates, whose grand vision was to create a communication nerve center like a "20th-century fortress, with spears and arrows replaced by protons and neutrons laying quiet siege to an army of machines within."
33 Thomas Street
33 Thomas Street, 33 Thomas St, New York, NY 10007, USA
Cortlandt Alley
Manhattan's Cortlandt Alley has seen its period detail challenged by gentrification, but filming still occurs there three to four times a week, as production pros from shows like 'Gotham' reveal the secrets to its authenticity: "Ironically, we take something already perfect and make it for the movie version."
Cortlandt Alley
Cortlandt Alley, New York, NY 10013, USA
The Feather Place
The Feather Place Is A Family Operated Business Which First Opened Its Doors In The Heart Of New York City'S Garment District In 1998. As The Result Of A Successful Industry Response, A Second Showroom Was Opened In The Fashion District Of Los Angeles In 2006.
The Feather Place NYC
40 W 38th St 3rd floor, New York, NY 10018, USA
https://www.featherplace.com/
Little Red Lighthouse
The Little Red Lighthouse, officially Jeffrey's Hook Light, is a small lighthouse located in Fort Washington Park along the Hudson River in Manhattan, New York City, under the George Washington Bridge. It was made notable by the 1942 children's book The Little Red Lighthouse and the Great Gray Bridge by Hildegarde Swift, illustrated by Lynd Ward. The lighthouse stands on Jeffrey's Hook, a small point of land that supports the base of the eastern pier of the bridge, which connects Washington Heights, Manhattan, to Fort Lee, New Jersey.
The Little Red Lighthouse
Fort Washington Park, Hudson River Greenway, New York, NY 10032, USA
Shinran Statute
Location: 332 Riverside Drive.
191st Street Subway Entrance
The deepest subway station in New York City lies 173 feet below ground (18 stories!) at the 191st Street stop of the 1 train. This stop is also known for the 1,000-foot-long tunnel that connects its station at St. Nicholas Avenue to an entrance on Broadway. Called "Tunnel Street," this is technically the only underground street in the city. For years, however, it was a dark and dingy passageway that troubled locals, so about six years ago, the city commissioned six artists to paint the tunnel with colorful murals.
Location: 190th and Broadway
Have Story To Share?
Blog with Trip.Social
Reach new audiences and maximize your potential.