Darwin & surrounds 24-hour itinerary
Make the most of your time in Australia's northernmost capital city and discover why Darwin is truly your port of call. Starting with the lively Darwin Waterfront and progressing through the city's culinary diversity, café culture, and outback pubs, this 24-hour tour will expose you to the Top End. Find out where to go for the greatest views, learn about the city's history, and see a famous Territory sunset.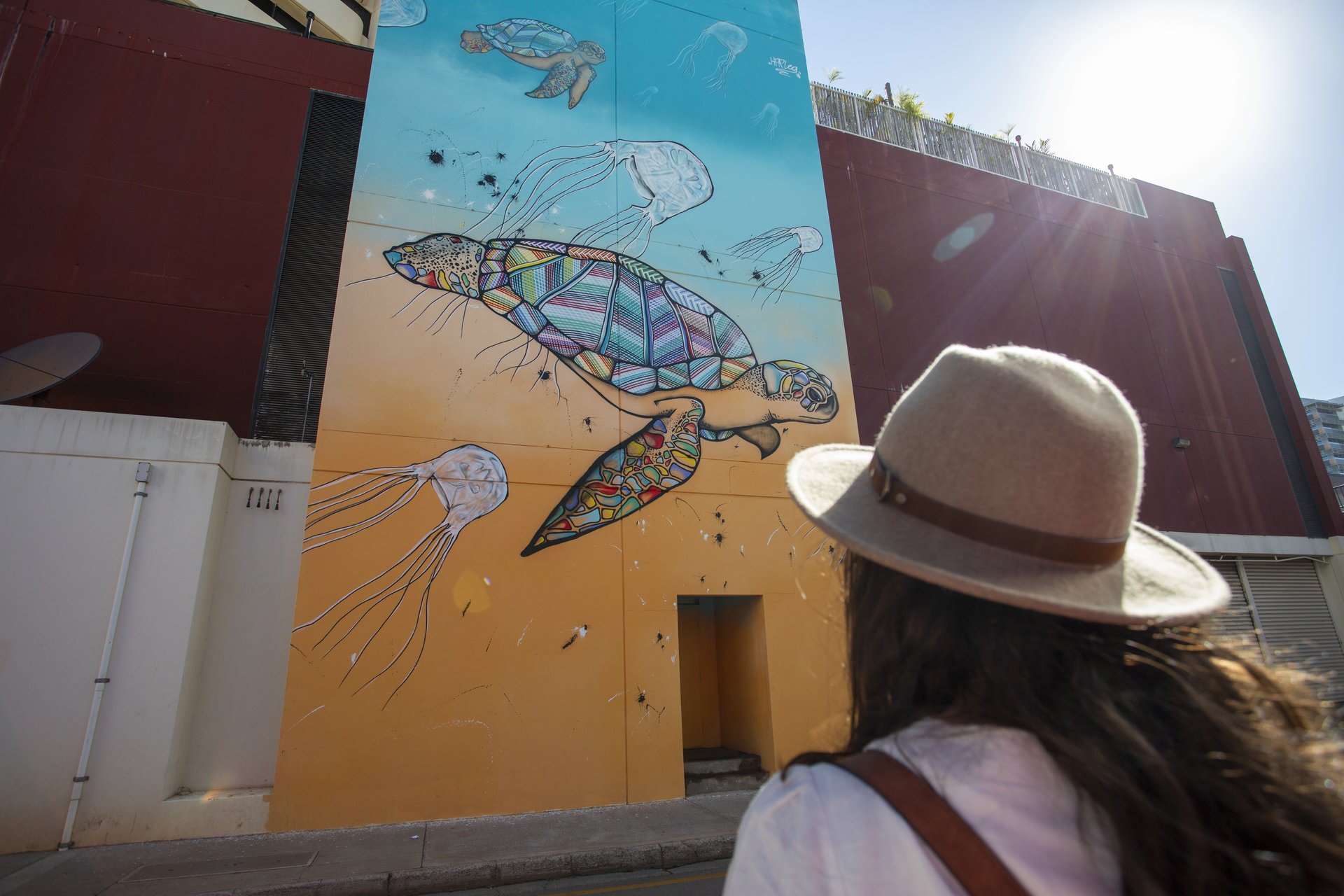 Breakfast with a view
Start your day with a cup of coffee and a view of the Darwin Waterfront. There is something for everyone, from high-end restaurants to more casual cafés and pubs. If you want to swim in the Darwin Wave Pool or the Recreation Lagoon, make sure you bring your swimsuit. Paddle, swim, or play in the Wave Pool, which features wave patterns ranging from gentle swell to waves up to 1.2 metres high. Swimming is permitted in both sections, which are supervised by lifeguards.
Darwin Waterfront Precinct
Darwin Waterfront Precinct, Kitchener Drive, Darwin City NT, Australia
Absorb the beauty of the botanic gardens
Take a stroll through the shaded George Brown Darwin Botanic Gardens, or better yet, take a Segway tour to see Northern Australia's magnificent flora from a different perspective. Before relaxing with lunch at the on-site café, take a stroll through monsoon forests, coastal dunes, mangroves, and open woodlands.
George Brown Darwin Botanic Gardens
George Brown Darwin Botanic Gardens, The Gardens NT, Australia
Go face-to-face with a croc
After lunch, head to Crocosaurus Cove on Mitchell Street in Darwin's downtown area. You'll be able to get up up and personal with the world's largest reptile, the saltwater crocodile, as well as learn about the aquarium's other fish and reptile species. Not to be missed is the twice-daily crocodile and fish feeding show. Climb into the Cage of Death for a face-to-face encounter with one of the world's largest saltwater crocodiles in captivity if you're feeling particularly daring. It's the ultimate burst of adrenaline!
Crocosaurus Cove
Crocosaurus Cove, Mitchell Street, Darwin City NT, Australia
Immerse yourself in art
This afternoon, immerse yourself in the local Aboriginal art scene. Art items from all across the Northern Territory can be seen and purchased in Darwin City and Parap. Explore Darwin's colorful streets and get lost in the amazing street art. Murals by prominent local and interstate artists have been painted as part of the annual Darwin Street Art Festival, and some of them can be interacted with utilizing augmented reality. Using a smartphone app, this remarkable outdoor experience transforms 2-D artworks into 3-D animations. These incredible public art exhibitions can be found all across Darwin, providing visitors and locals alike with a memorable cultural experience. Next, go to the Museum and Art Gallery of the Northern Territory (MAGNT) to learn more about Aboriginal art, Darwin's history, and to meet Sweetheart, the famous local crocodile. The museum is home to the famed 5-meter-long, 780-kilogram saltwater crocodile.
Street Art
Street Art, Austin Lane, Darwin City NT, Australia
Museum and Art Gallery of the Northern Territory
Museum and Art Gallery of the Northern Territory, Conacher Street, The Gardens NT, Australia
Engage in a history lesson
The Defence of Darwin Experience in East Point Reserve is a 5-minute drive away. Through exhibits and multimedia presentations, learn about the Darwin Bombing and the city's role in WWII. Visit The Military Museum next door for exhibitions of vehicles, uniforms, weaponry, and artillery, or head to Stokes Hill Wharf for a virtual reality experience at the Royal Flying Doctor Service Tourist Facility. Then pay a visit to Darwin's first war memorial, the Cenotaph in Bicentennial Park, which honors Australians who died in WWI as well as Aboriginal men and women who helped the Army preserve the rugged northern coastline during WWII.
RFDS Darwin Tourist Facility
RFDS Darwin Tourist Facility, Stokes Hill Road, Darwin City NT, Australia
East Point Reserve
East Point Reserve, East Point NT, Australia
Cruise at sunset
Return to the waterfront as the sun sets to board a classic pearling lugger or catamaran for a drink or dinner cruise while watching a spectacular tropical sunset from the water. Relax on board as you exchange tales of a fantastic day spent visiting Darwin's unique and special city.
Enjoy an Aussie classic under the stars
Relax under the stars tonight at the Deckchair Cinema, which is located along the esplanade. During the dry season, the open-air theater shows Australian, popular, family, foreign, and classic films (April - November).