Darwin City walking highlights
The fact that everything is readily accessible is one of Darwin's best traits. Because there are no significant hills or rugged environments in the city, getting about on foot to see the sights is simple. Walking and cycling trails, shady trees, and lots to see and do abound throughout the city.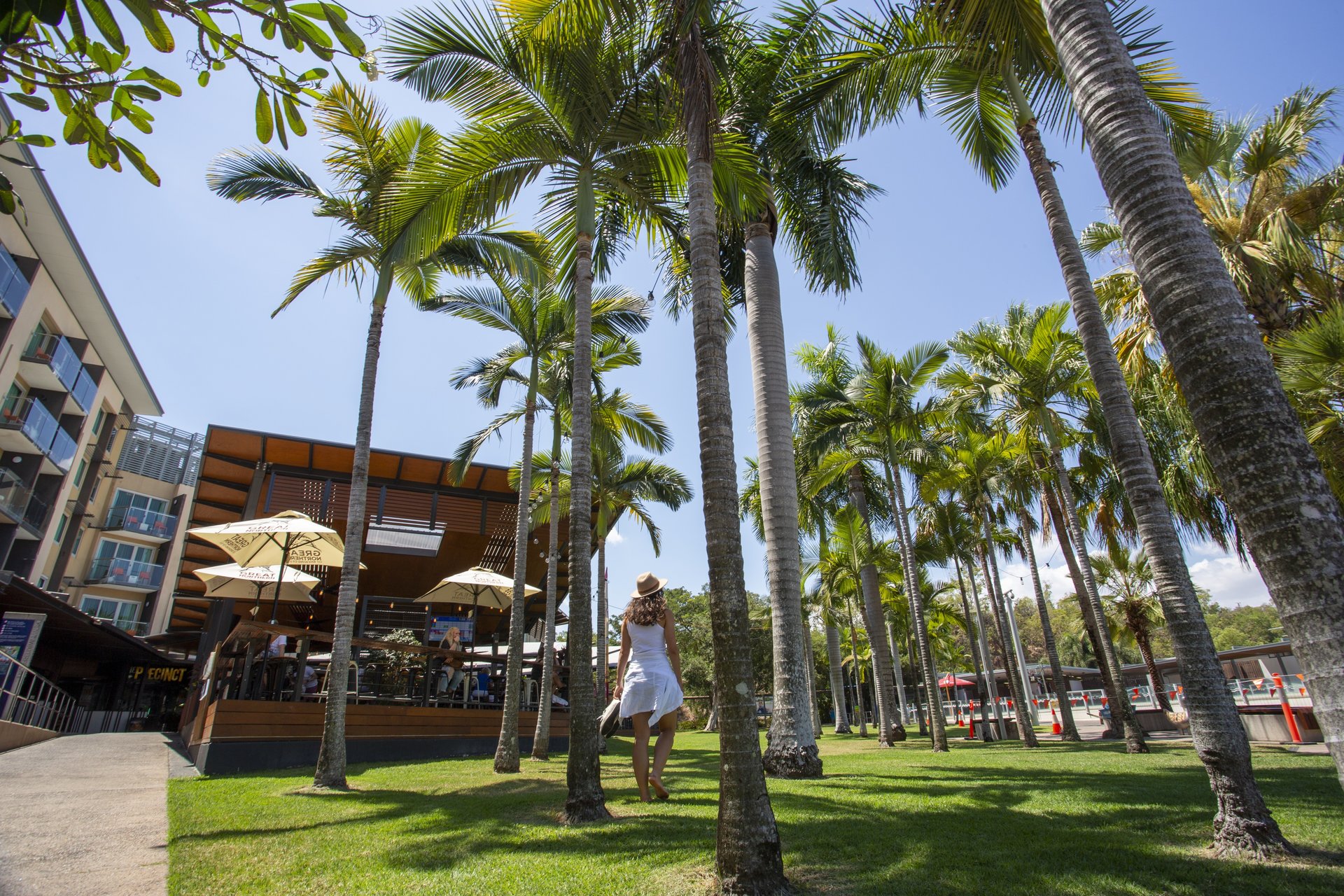 Fuel up for the day
Breakfast is the most essential meal of the day, so start your day at the Darwin Waterfront, where you may order your favorite breakfast and beverage while sitting outside.
Darwin Waterfront Precinct
Darwin Waterfront Precinct, Kitchener Drive, Darwin City NT, Australia
Learn about Chinese history and culture
At the Chung Wah Society's NT Chinese Museum, learn about the rich history of Chinese people in the Top End. The museum and temple, which was built in 1887, offers a historical perspective dating back to 1874, with photographs, souvenirs, and Darwin's Chinese family history on display.
NT Chinese Museum
NT Chinese Museum, Woods Street, Darwin City NT, Australia
Visit the most unique building in town
You'll find yourself outside the Brown's Mart building if you walk down Smith Street Mall. Brown's Mart, which is now utilized as a local theatre, has formerly served as a stone store, mining exchange, shipping agency, auctioneering venue, and even a bank. This structure, which dates back to the 1880s, has withstood the test of time, surviving many cyclones.
Brown's Mart Theatre
Brown's Mart Theatre, Smith Street, Darwin City NT, Australia
Explore the original Palmerston Town Hall ruins
The surviving remnants of the ancient Palmerston Town Hall may be found across the road from Brown's Mart. This structure, which was completed in 1882, was so badly devastated by Cyclone Tracey that it was never completely rebuilt.
Remains of Palmerston Town Hall
Remains of Palmerston Town Hall, Darwin City NT, Australia
Discover Parliament House
Parliament House, often known as "the wedding cake," is one of Darwin's most famous structures. This edifice, which overlooks Darwin Harbour, was completed in 1994 and is still our current parliament house. Daily self-guided tours are offered, or for more information, you can join their free daily guided tour.
Sample the east Asian delights at Hanuman for lunch
Experience the excellent meal at Hanuman Darwin and embark on a culinary adventure around South East Asia with chef Jimmy Shu. The restaurant's interior is stunning, with furnishings, dinnerware, and artwork from all around the world. There's something for everyone with a combination of indoor and outdoor dining options. Oh, and how about some advice from the locals? The trumpet mushrooms should be ordered... You will not be dissatisfied!
Hanuman
Hanuman, Mitchell Street, Darwin City NT, Australia
Meander through the park with water views
Bicentennial Park stretches the length of the city along the water's edge. This beautiful park is a favourite lunchtime gathering for both locals and visitors. Picnicking, sitting on the grass, exercising, taking advantage of the wonderful walking trails, or children playing on the large playground are all common activities here. It's easy to see why this is a popular spot with so many shady trees, lush green grass, and seaside vistas.
Bicentennial Park
Bicentennial Park, Esplanade, Darwin City NT, Australia
Admire the street art
Take a walk through some of Darwin's backstreets if you want a change of scenery. To light up our city, several of our backstreets and laneways have been covered in street art, including floor-to-rooftop murals and paintings. As you walk around the city, look for amazing artwork depicting local flora and fauna. Laneway walking tours are available if you'd rather have someone else show you around. These guided tours will show you the best of Darwin's laneway art and explain you about the artists and the stories behind the works.
Sample the city's gourmet delights
On a leisurely stroll through Darwin City's restaurants and pubs, sample a wide range of delectable foods and cocktails. Learn about the cultural and artistic landmarks as you walk between establishments, as well as how the Top End's multicultural background has inspired the food scene. Darwin Gourmet Tours can create itineraries for both large and small parties.
Gourmet Dinner Tour
Gourmet Dinner Tour, Carey Street, Darwin NT, Australia
Take a tour of Burnett House
Bullets, bombs, and cyclones couldn't bring down one of Darwin's outstanding examples of tropical architecture. Burnett House is now the National Trust's headquarters, and it is set amongst beautiful grounds with views of Darwin's beautiful bay. It features a tiny museum on the second floor that depicts life in Darwin during WWII. This is the ideal site to spend a leisurely afternoon, as it offers guided tours of the house and gardens. You can have afternoon tea in the original drawing room if you visit on the third Sunday of the month.
Burnett House
Burnett House, Burnett Place, Larrakeyah NT, Australia