A Perfect Weekend Getaway at Maitland
Only two hours from Sydney, Maitland is a fascinating town with a rich history and burgeoning cultural scene. Many historical buildings from the 1800s have been preserved and now house restaurants, pubs and boutique hotels. A strong artistic community means there are numerous galleries to visit, including a thriving regional gallery. Plus, with Maitland's agricultural background, excellent Slow Food market and many cafes and restaurants, you'll leave well fed.
History of Maitland
The area's original habitants are the people of the Wonnarua Nation. According to Wonnarua dreamtime, the Hunter Valley was created by a great spirit, Baiame. The spirit is depicted on a cave (on private land) overlooking the valley at Milbrodale and was painted more than 3,000 years ago. European settlement began in approximately 1818 and Maitland became an important hub for trade and the growth of the Hunter region. Many buildings were erected in the mid-1800s using local sandstone and cedar, some of which still exist today. You can follow a number of heritage walks around Maitland that take in historic buildings and significant sites.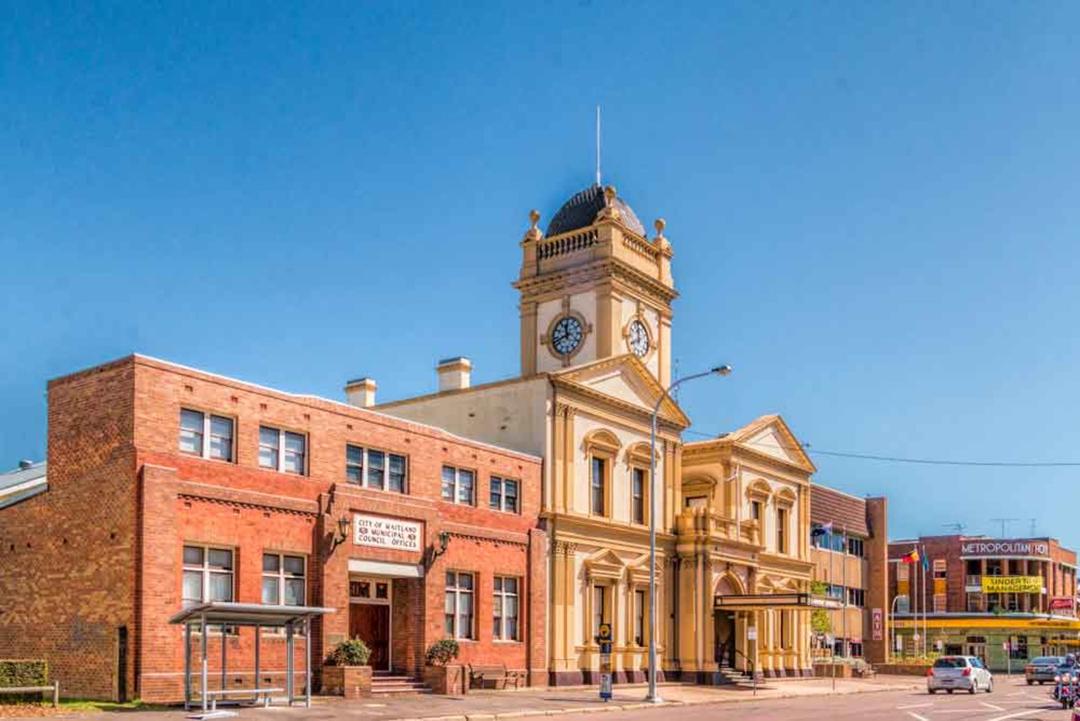 Some of the historical highlights include Mansfield House, built in 1887, which has a Grand Chamber and beautiful garden and is now used as a venue for events and weddings. The Maitland Gaol has a significant sandstone façade and a fascinating 150-year history; it offers numerous tours including an Escapes Torchlight tour. Morpeth Museum is located in the former courthouse and has a number of permanent exhibitions that explore different facets of the area's history.
Maitland Gaol
6/18 John St, East Maitland NSW 2323, Australia
Thriving creative culture
Maitland has a thriving arts and culture scene due to the many local artists and creators in the region. You'll find street art in many forms – on walls, poles and fences – all around the city. The New One mural at Bourke Street Link is particularly striking.
Maitland Regional Art Gallery
230 High St, Maitland NSW 2320, Australia
y has an extensive permanent collection and has displayed exhibitions of artists such as Charles Blackman and Lionel Lindsay as well as group exhibitions with works from Aboriginal artists. Pick up the Art and Heritage audio tour from the reception desk to learn about the history of the gallery.
The Hunter Artisan Gallery & Café features work from local makers including jewellery and homewares. This welcoming space often holds workshops and has a small café with home-style treats. Morpeth Gallery specialises in traditional Australian art and its gift shop is the perfect place to find a souvenir. Shop responsibly from one of the many excellent antique stores and op shops in town – particularly on Melbourne Street in East Maitland and High Street in Central Maitland.
Morpeth Gallery
5 Green St, Morpeth NSW 2321, Australia
Community events
There's a strong sense of community in Maitland and a full calendar of events to enjoy at any time of year. Every second Sunday you can sample bao, Southern smoked meats or wood-fired pizza at Streets Eats – a gathering of local food trucks. The town's multicultural communities come together to celebrate diversity for Riverlights Multicultural Festival, a lantern parade and bustling street fair on 12 October. If you're a craft beer fanatic, you'll want to attend Bitter &Twisted Boutique Beer Festival, a boutique beer festival held in Maitland Gaol on 2-3 November serving up some of the best Australian beer around as well as a line-up of great musicians. If you're more of a chocolate and coffee enthusiast, visit Maitland Aroma Coffee & Chocolate Festival on 10-11 August for a two-day festival with tastings, workshops and entertainment.
Slow food
Maitland has a long agricultural history that's evident in the excellent produce and food culture in the city. Start at the Slow Food Earth Market on every first and third Thursday of the month to sample produce from the region's small-scale farmers. You can also purchase produce directly from sustainable and chemical-free Phoenix Park Farm on certain dates. Check their social media for updated information.
Coffee fiends should head straight to Common Grounds, who use Glee Coffee Roasters for their beans. Bikesmith & Espresso Bar is another top spot for coffee, with a welcoming atmosphere and bike tuning facilities. For something different, try the Cabin Collective, where they roast beans over the fire and have an in-house tattoo parlour. The Cunning Culinarian are famous for their brownies and range of take-home salads and slow-cooked dishes like lamb shanks and roast potatoes, perfect if you feel like a night in your self-contained accommodation.
The Bikesmith & Espresso Bar
326 High St, Maitland NSW 2320, Australia
A number of eateries are housed in some of the town's beautiful historic buildings. Make sure to visit Morpeth Sourdough, situated in the historic Arnott Bakehouse which was carefully restored in last decade. The Commercial Hotel is owned and operated by a local family with its own micro brewery on site and a bistro serving a wide variety of classic pub food. If you're after craft beer and burgers, The Pourhouse is the way to go. Fratelli Roma serves fresh pasta made daily in an 1867 building with original floorboards and Australian cedar features.
Take home a little piece of Maitland in the form of an edible souvenir. The Icky Sticky Patisserie in Lorne serves delicate, delicious French-style cakes and is extremely popular so it's best to get there early – try an almond croissant or a chocolate raspberry mousse cake.
The Icky Sticky Patisserie
2/27 Belmore Rd, Lorn NSW 2320, Australia
Campbell's Store has an enormous range of gourmet goods from the region and beyond – also in the building is a Ginger Beer Factory, where you can sample the soda made the old-fashioned way.
Stay
If you're wanting to stay somewhere luxurious but with plenty of personality, The Villa Country House Retreat is a gorgeous historic house built in 1879 with an acre of gardens and wrap-around verandahs. The villa sleeps four adults and has a large freestanding bathtub, luxury bathrobes and vintage bikes you can use to explore Morpeth.
Regents Park is a Georgian-style mansion that sits on five acres of sprawling garden. There are three accommodation options – The Mansion, housing 10 guests, the Tocal Suite and The Gardeners Quarters housing two guests each. Each room is decorated differently and can be hired together for a wedding or event.
The Regents Park
23 Regent St, Maitland NSW 2320, Australia
The Bronte is a boutique four-star hotel that mixes Asian and Victorian style. They offer a number of high teas; the gin tea is a great way to spend an afternoon before heading out for dinner.
Have Story To Share?
Blog with Trip.Social
Reach new audiences and maximize your potential.