A Full Day in RiNo: Sunrise to Sunset & Then Some
Look no further than Denver's River North Art District, or RiNo, to discover one of the city's most exciting new districts (pronounced like the animal). RiNo is a vibrant swath of Denver based on urban charm and industrial rebirth, as though echoing its mash-up moniker.
Alleys adorned with curated graffiti and restored warehouses splashed with bright murals may be found on the outside. When you walk through their doors, you'll find a plethora of inspiring maker and artist galleries, varied cuisine, and a craft-beverage scene that matches the neighborhood's creative energy. Here are a few ideas for how to spend a full day in RiNo. Insider tip: Because parts of RiNo are still growing, you may wish to drive to the highpoints. Make sure you have a designated driver or utilize a rideshare service if you're going to one of the district's many pubs or tasting rooms.
Morning
Wake up and head to The Woods Restaurant to witness the sunrise paint Denver in vibrant purples, fluorescent pinks, and electric oranges. The Source's rooftop café serves sweet and savory breakfast dishes with spectacular views of the city. The Source's market is an excellent place for non-early risers to get a fancy coffee and freshly baked sticky buns before exploring the stores and galleries within. The Source features two market halls, each with its own entrance, so be sure to visit both for the whole experience. Alternatively, head to The Denver Central Market, a gourmet food hall housed in a converted warehouse with art deco elements. There are numerous dining and drinking options beneath the high ceilings of this local classic, ranging from meatball sandwiches and vegan soba noodle salads to traditional egg cremes and charcuterie boards. Have breakfast at the market or pick up the ingredients for a delicious picnic — fresh bread, cheeses, and cured meats — to enjoy at Mestizo-Curtis Park, Denver's oldest park. But, before you depart, take a stroll around the neighboring lanes, which are lined with colorful artwork. These lanes are a vital component of RiNo's appeal and are known as one of the most Instagrammable sites in the city.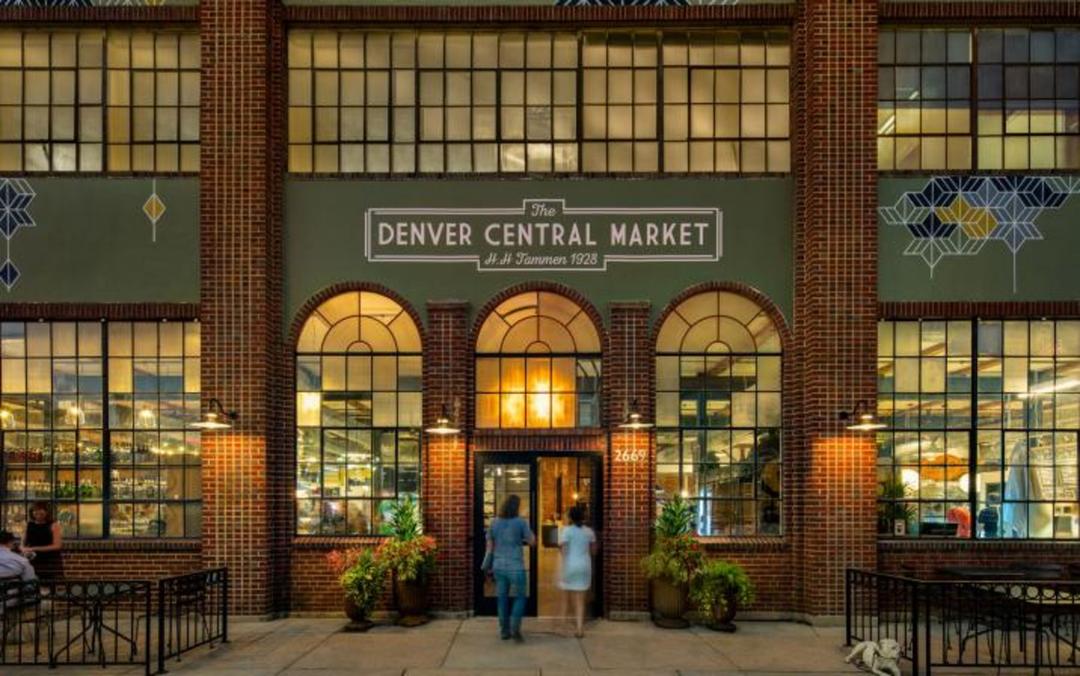 The Denver Central Market
2669 Larimer St, Denver, CO 80205, USA
The Source Hotel
3330 Brighton Blvd, Denver, CO 80216, USA
Afternoon
Begin your afternoon at the Forney Museum of Transportation, where you can see a range of interesting historical relics, including 1960s amphibious automobiles and Amelia Earhart's car. Keep things moving at Zeppelin Station's quarterly pop-up shop, Made in a City, which features businesses, artwork, mixology, and more from cities all over the world. (It's today in Los Angeles.) Tomorrow… Singapore? Havana?) While you're there, take a culinary journey across the world: From Vietnamese coffee and banh mi to Nashville hot chicken and tacos al pastor, the dining hall has it all. Fresh pasta meals are served at the stylish Il Posto, where mandala-adorned walls and sculptural lighting set the tone for a few museum visits. Plinth Gallery has a wide range of contemporary ceramics, from delicate, spiky vases to geometric marvels. Boundary-pushing artworks in all mediums, such as pop-surrealist paintings and virtual collage, can be found at fooLPRoof. RiNo is known for its artists, but it also has a thriving craft beverage industry. Stem Ciders features unique flavors such chile guava and salted cucumber, as well as experimental tastings on the first Monday of each month. Other local favorites include Great Divide Brewing Company's Barrel Bar's vibrant IPAs and velvety stouts, as well as Infinite Monkey Theorem's crisp chenin blanc and jammy malbec. Both facilities provide behind-the-scenes tours and samples, while nearby Blue Moon Brewing Company has seasonal offerings.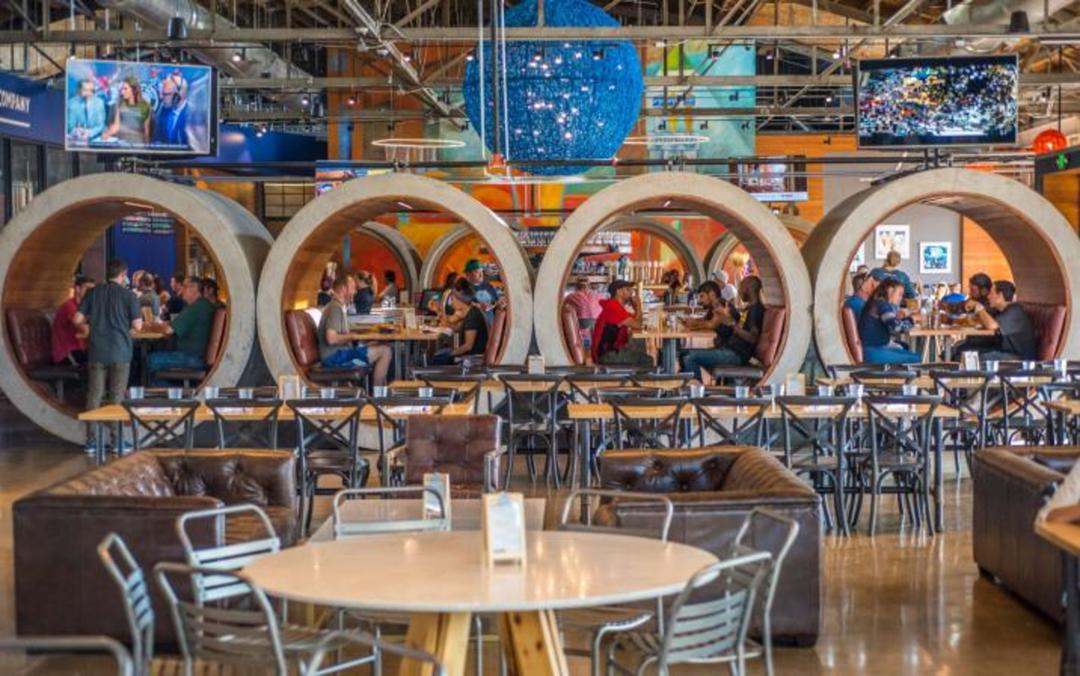 Blue Moon Brewing Company- RiNo
3750 Chestnut Pl, Denver, CO 80216, USA
Great Divide Brewing Co
2201 Arapahoe St, Denver, CO 80205, USA
The Infinite Monkey Theorem
3200 Larimer St, Denver, CO 80205, USA
Stem Ciders
2811 Walnut St suite 150, Denver, CO 80205, USA
Early Evening
If you're lucky enough to be in town, don't miss the RiNo Arts District's weekly First Friday, which features a lineup of art openings and live music. Ironton Distillery & Crafthouse cocktails are masterpieces in their own right, crafted with house-made blue-corn vodka, ponderosa pine gin, family-recipe bitters, and more. If visiting RiNo has sparked your imagination, Bigsby's Folly offers the opportunity to create your own unique red wine blend. (Of course, you can just drink wine and eat if you like). You'll have plenty of options to satisfy your hunger when those dinnertime stomach rumblings appear. Los Chingones, which serves daring Mexican delicacies like rattlesnake chorizo queso and alligator tacos, is so popular in Denver that it's opened three more locations since it first opened in RiNo. Work & Class, just down the road, combines Southern charm with Latin flavor with dishes like pig and lamb meatballs served over buttery grits and poblano smashed sweet potatoes. With delicacies like Moroccan fried chicken, kampachi tacos, and carrot cake fritters, Death & Co Denver gives foreign comfort foods a fresh lease on life, all of which match nicely with inventive artisan cocktails.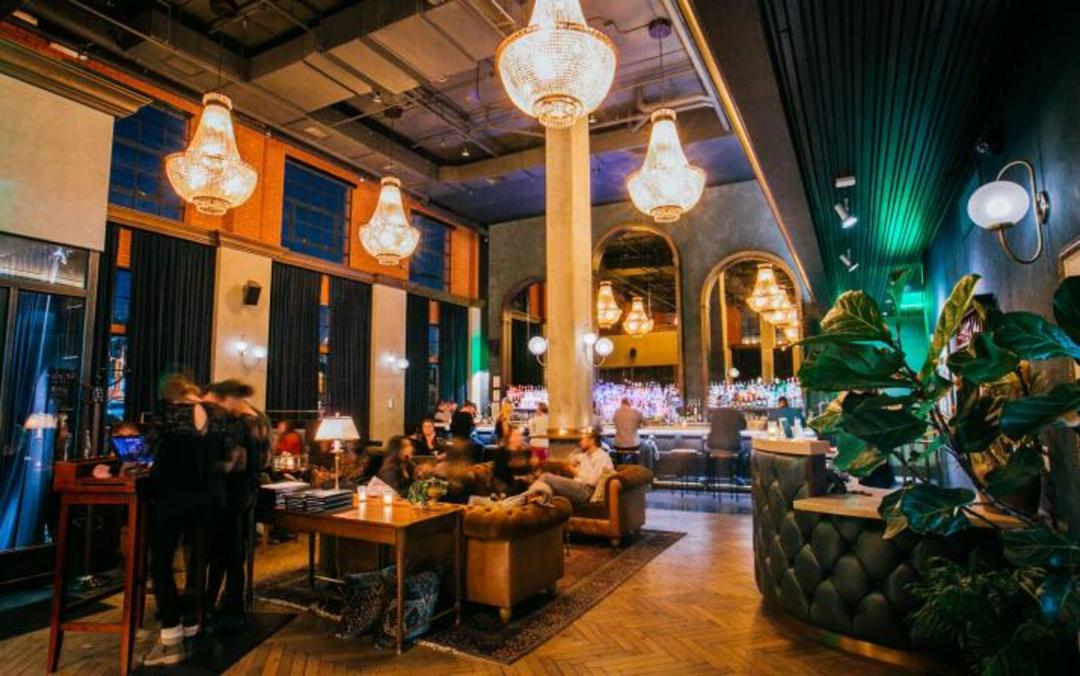 Death & Co Denver
1280 25th St, Denver, CO 80205, USA
Late Night
When it comes to nightlife in RiNo, there is something for everyone. Bierstadt Lagerhaus has your name all over it if you're looking for a Colorado-style night replete with beer pong, enormous games, and cornhole. You'll discover traditional brewed German-style lagers, local ciders, and a menu of small snacks, salads, sandwiches, and more for when you get hungry in addition to plenty of entertainment. Don't miss the concerts at The Mission Ballroom, which feature world-famous artists performing blockbuster presentations. This mural-filled concert venue features plenty of photo opportunities, as well as a famous disco ball and the best sound available. At Nocturne, jazz aficionados can unwind every night with wonderful food, a wide wine list, and seamless sets. The club also conducts an artist-in-residency program, which allows budding musicians to stride and saunter with seasoned performers. Because seating is limited, you should make a reservation. Are you ready to turn the music up and dance the night away? In Denver, one of the most LGBTQ-friendly communities in the country, the beat drops like it's hot at Tracks, RiNo's top LGBTQ nightclub. The facility organizes themed dance nights, adult roller-skating events, and some of the top local circuit DJs spinning anything from hip hop and house to old-school industrial across various rooms.
Have Story To Share?
Blog with Trip.Social
Reach new audiences and maximize your potential.